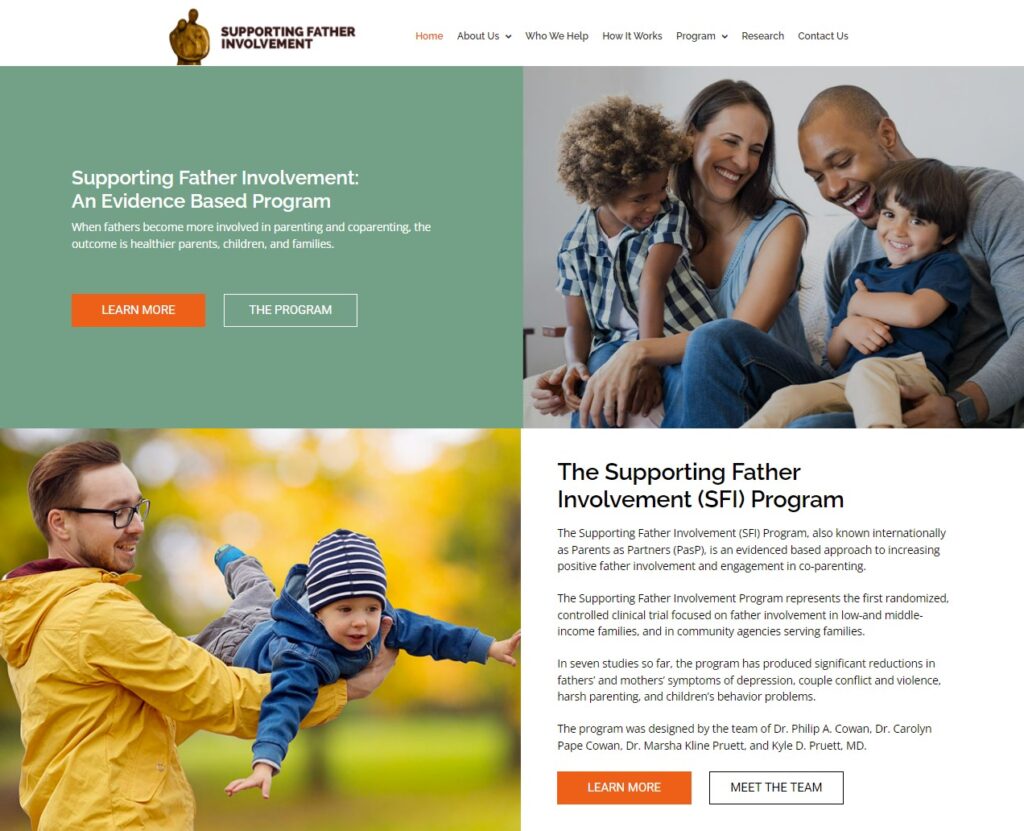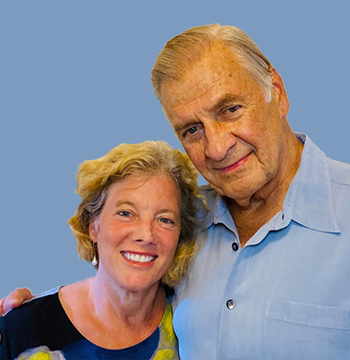 A primary intervention and research project focus for Dr. Pruett is the Supporting Father Involvement (SFI) intervention program, a coparenting program for parents/caregivers and their children. SFI aims to reduce child abuse and neglect and enhance family well-being through an intervention that encourages father involvement and partnered co-parenting (among married and unmarried parents as well as coparenting family members). Dr. Pruett and his collaborators, Professors Philip and Carolyn Cowan (University of CA, Berkeley Emeriti) and Marsha Kline Pruett, PhD, MSL, ABPP co-led a series of Randomized Clinical Trials in a 12-year study funded by the CA Department of Social Services, Office of Child Abuse Prevention. The program examined the effectiveness of fathers-only versus couples intervention groups against a third condition control group. In the last phase of the project, intervention effectiveness was compared for child welfare–involved and non-involved families. The evidence-base of the program was established through replicated results showing:
RCT1: Fathers and mothers in the control group showed no positive and some negative changes, including a decline in marital satisfaction and increased behavior problems in the children. In the 16‐week fathers groups, fathers' involvement in care of the children increased, but both fathers and mothers declined in marital satisfaction over the 18‐month study. By contrast, parents from the 16‐week couples groups showed increased father involvement, no increase in children's behavior problems, and reductions in parenting stress—and no decline in marital satisfaction.
RCT2 showed statistically significant declines in parents' reports of violent problem solving, increases in fathers' involvement and parent-child relationship quality, and decreases children's aggressive behaviors. Notably, as in the prior group studies, mothers' and fathers' satisfaction as a couple remained stable.
RCT3: Some couples were invited to participate in groups "immediately", while others were placed on a waitlist and offered a chance to participate in "delayed" groups approximately 6 months later. Couples in the immediate intervention reported significantly less couple conflict, which, in turn, was related to increases in both mother-child and father-child relationship quality followed by decreases in aggressive behaviors and depressed symptoms in the children 18 months later. Outcomes were as positive for the child welfare‐referred families as for families recruited from the community. A surprising outcome was that intervention participants showed a statistically significant gain in yearly income.
Trial 4 Benchmark Comparison Study: Twelve months after entering the study, SFI‐Alberta participants showed significant positive change on 9 of the 11 measures used in prior SFI studies in the United States, including fathers' involvement in care of the children, parenting stress, and improved co-parenting and parenting.
RCT4/Trial 5: Couples —many of whom were referred for relationship and/or adjustment problems in the parents or their children—found significant reductions in parents' anxiety and depression, parenting stress, violent problem‐solving strategies and children's behavior problems.

These results held across race and ethnic groups (Mexican-American, Black, and Caucasian), socioeconomic groups (lower and higher income families), and families with parents endorsing higher or lower depression and anxiety.
These data and many empirical and theoretical analyses later, it is clear that SFI is producing data about how to involve men early in their children's lives, and how to best work with parents and other caregivers as a team to promote children's development. Since the original funding has ended, the project continues through public and private sources in various locales in California, states across the U.S. (e.g., Connecticut, Massachusetts, Texas), as well as Canada, U.K., Israel, and Malta. Programs for indigenous families in Western Canada and for families in Mainland China are also underway. In 2017, the UK version of SFI (Parents as Partners) won a "Best Family Support Intervention" National Award.
For more information, see www.SupportingFatherInvolvementSFI.com.
We are currently working with:
Brazelton Touchpoints to bring SFI to their large network of NGOs providing services to low income families.
ParentLab to bring SFI to China and Chinese-American families in the U.S.
We are open to public-private partnerships aimed at dissemination or publicizing the compelling results of these evidence-based best practices. Our goal is to increase awareness of service providers, practitioners, and policy makers of this successful intervention for fathers and families from diverse backgrounds, with the concurrent goal of fostering substantive organizational change within public and private organizations to view fathers as a resource for and caretakers of children.